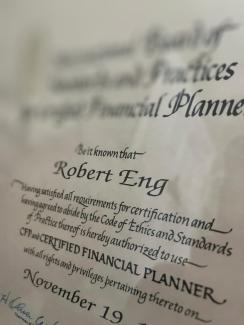 Ever noticed those three letters after my name, CFA®? They stand for Chartered Financial Analyst, a leading credential recognized globally, especially among sophisticated institutional investors such as funds and banks. 
So what's in it for you? As a CFA® charter holder, I've got the know-how to help you navigate the often confusing world of investing. I can analyze financial situations and manage portfolios effectively, all with your goals at heart. 
But it's not just about smarts. The CFA® designation is like a badge of trust. It underscores my commitment to high ethical standards. I put your interests first. 
Now, you might know about the Certified Financial Planner (CFP®) designation. It's indeed a great credential that covers financial planning broadly, including investments. Like CFA® charter holders, Certified Financial Planners are also committed to putting client interests first. 
Interestingly, three years after I got my CFA®, I earned my CFP® and kept both for years. I even gave a presentation on investment education at a CFP® conference. However, as my professional role evolved to focus more on investing, I decided to maintain the CFA® designation alone. 
This decision allowed me to delve deeper into the world of investment management. While I might not have the CFP® title now, I've stayed on top of developments in tax laws, estate planning, and developed relations with tax and legal advisors. 
In a nutshell, both the CFA® and CFP® offer their own strengths. As your financial advisor, my goal is to use my CFA® and all my expertises to serve your best interests. Your financial well-being is our top priority.